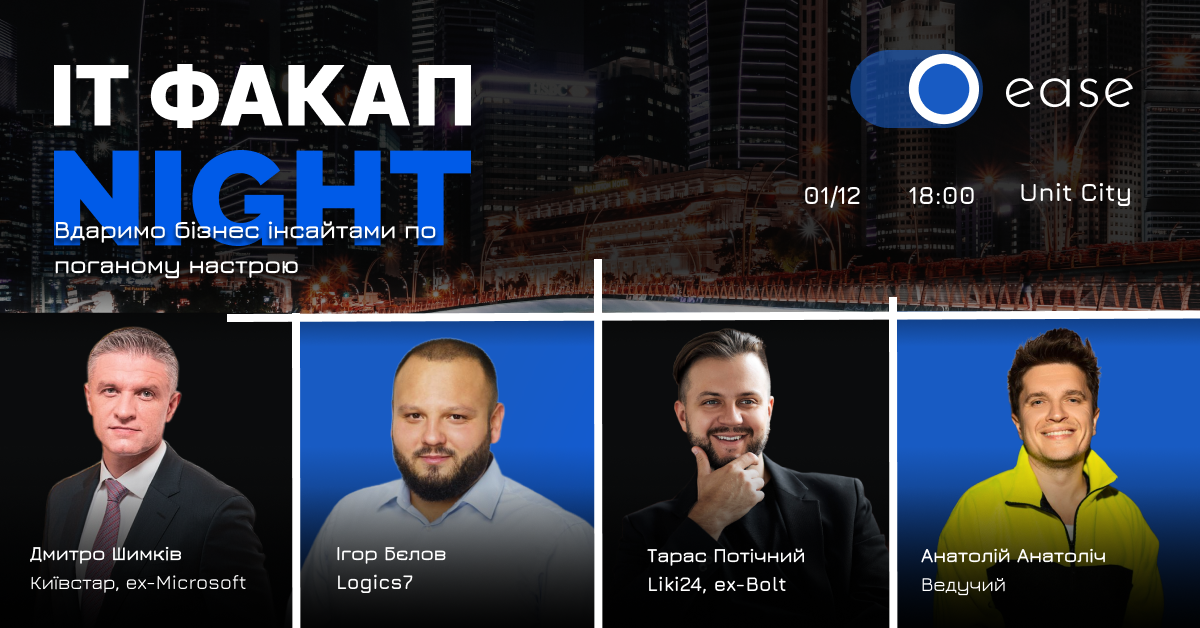 IT Fuckup Night by EASE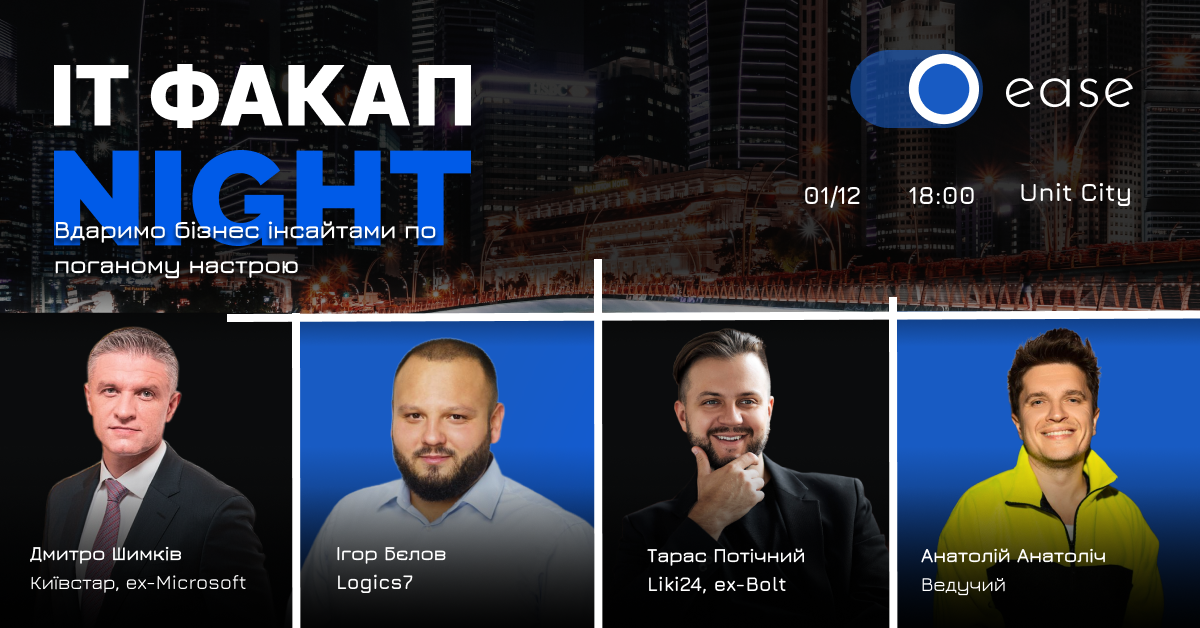 IT FUCKUP Night by EASE already this Thursday
Powerful speakers will share their experiences in business:
Taras Potichniy, Ex-Bolt, VP of Expansion Liki24.com – when you need medicine will tell: "How European regulations limit the development of the tech industry and innovations on the pharma market. Case Liki24".
Ihor Belov, co-founder at Logics7, will speak on the topic: "IT team vs hardware engineers: how the collision of different technological worlds almost collapsed the creation of a tank simulator."
Dmytro Shimkiv, ex-general director of Microsoft Ukraine , member of the supervisory board of the Ukrainian Fund for Startups and Kyivstar , will talk about his own experience: "From a garage startup to Microsoft: facaps on the way from a coder to a top manager."
The presenter and moderator of the event is showman, radio and TV presenter Anatoliy Anatolich
In addition to the powerful content of the speeches, a welcome drink and buffet from the gastronomic partner of our event – 

GastroFamily – Dima Borisov's family of restaurants await

 you . These are more than 20 brands from restaurateur Dmytro Borisov, united by love for food: from sushi and burgers to new Ukrainian cuisine. GastroFamily is a family of restaurants that are always nearby.

We will also hold a charity auction at which a painting by Ukrainian artist Sonya Morozyuk will be presented. Sonya's paintings were presented at 5 exhibitions in different cities of Ukraine, at exhibitions in New York and Amsterdam. Sonya also collaborates with such companies as PrivatBank (skins for Privat24 cards), UkrPoshta (postcards), Silpo (painted shoppers), Voda.Ua (water labels), Alebor.group (65 billboards in the form of paintings), Helen Marlen Group (pictures presented in boutiques). Sonia's latest work is the painting of Gucci, Burberry, Helen Marlen, Salvatore Ferragamo shop windows in Passage on Khreshchatyk.

All proceeds from the auction will be donated to the Vladyslav Savchenko Charitable Fund for the purchase of sleeping bags-blankets for an orphanage in the city of Zaporizhia.