 PR
One of the strengths of the EASE team is expertise in the PR promotion of personal and corporate brands. We have collected the experience of the best PR specialists to help small and medium-sized IT companies become recognizable in the market, show the region's technological potential, and build a quality IT brand in Ukraine.
Join the community
Each resident company receives:
01
Possibility of publication in popular mass media and speeches on TV channels.
Niche media such as Marketer, Kraftblick Media, ITC, Dev.ua, Delo.ua, Liga Tech, HB, and others write about our residents.Thanks to a strong PR team and liaisons with journalists established over the years, the EASE Association receives daily requests for expert comments on specialized materials.
250+
mentioned in the media per year
500+
contacts of journalists
30+
permanent media partners
02
A promo video about the company with further promotion to the target audience.
EASE is the only community shooting promotional videos for resident companies. The film crew goes to the resident's office and interviews the company's founders and top managers. The organization, production, and promotion to the target audience are also the responsibilities of the EASE team.
03
Speeches at our events (2+ events per month)
Every month we hold at least two niche events where top managers and company founders can share their expertise in relevant areas. It can be a smart lecture on a particular topic, a speech at a conference and a job fair in different cities of Ukraine, or speeches at large-scale conferences.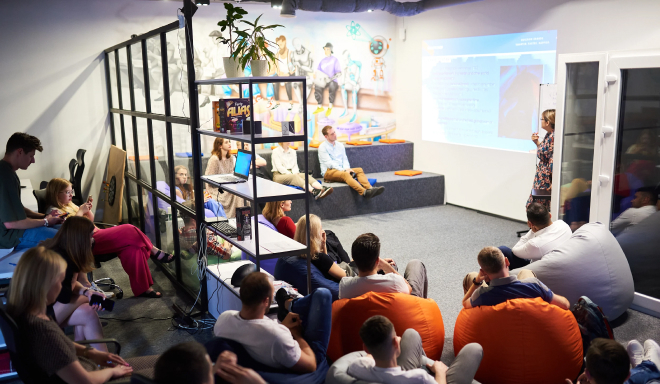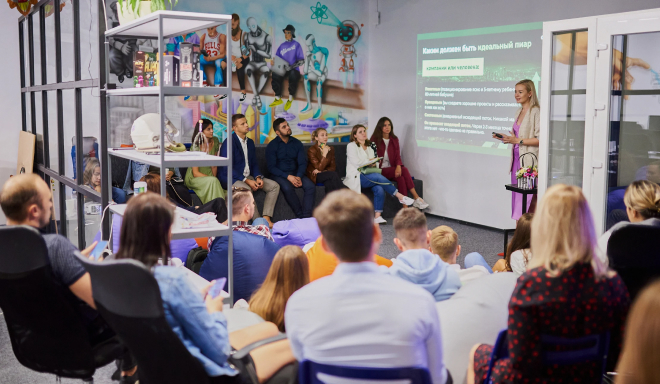 04
Shooting IT Bar
This show format is similar to "Projectorparishilton." Every month we invite top entrepreneurs, owners, and top managers of resident companies to discuss IT and innovation news.
05
Posting information, news, and vacancies of residents on all community resources.
EASE provides full media support to its residents. We can post company news on the site and social networks. Also, we can add it to email newsletters. Besides, several times a month, we prepare a digest of vacancies and send it to potential candidates.