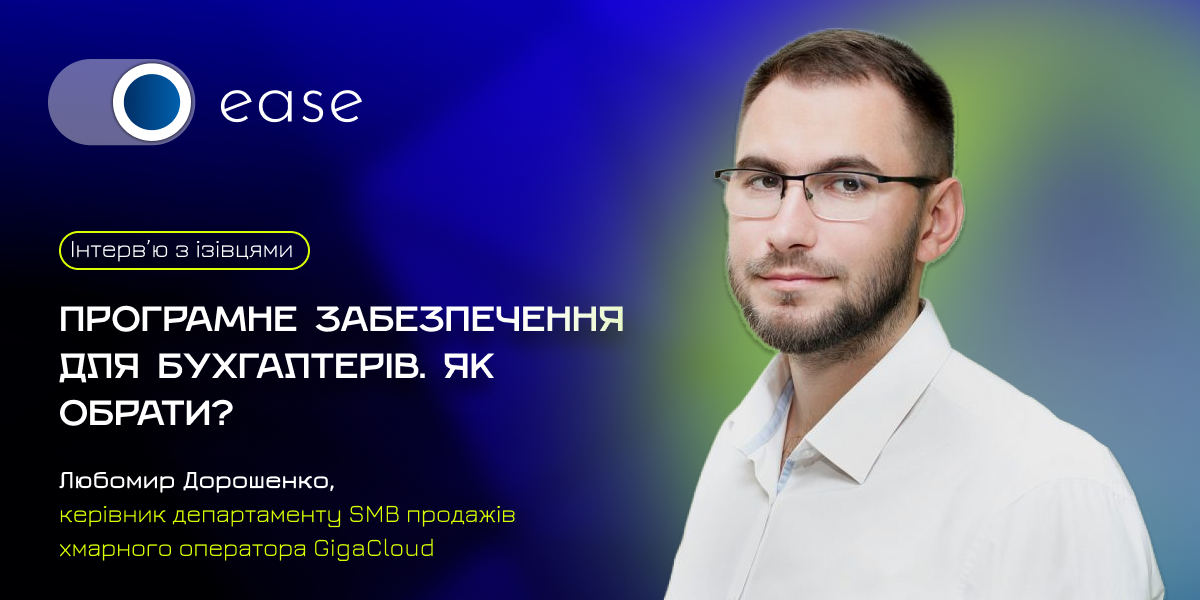 Interview with EASE people
SOFTWARE FOR ACCOUNTANTS. HOW TO CHOOSE?
GigaCloud tells
1C software products occupy leading positions in the Ukrainian market: they are used by Ukrainian business, they have a good system of corporate standards and marketing policy. There are no complaints about this software, except for one thing – it is of Russian origin.
Currently, there are many other software products created for accounting and reporting. Lubomir Doroshenko, head of the SMB sales department of the GigaCloud cloud operator, tells how companies can choose alternatives to the 1C program among Ukrainian and foreign solutions.
1) WHY IS THE BUSINESS LOOKING FOR AN ALTERNATIVE?
According to various estimates, the 1C program is currently used by 50,000 to 500,000 Ukrainian firms. State organizations and enterprises were banned from using 1C in 2017. But this ban did not apply to business.
On February 24, it became clear that using 1C and other Russian software is to finance the occupiers. There are also risks of cyber threats. Therefore, today business is taking the initiative to abandon Russian software. According to our calculations, 30% of users are actively looking for analogues of 1C.
2) WHAT DIFFICULTIES CAN ARISE WHEN SWITCHING TO NEW SOFTWARE?
For several decades, many accountants and economists have been working in 1C. Everyone adapts the program to the needs of their company: develops additional modules, adds functions, tools, etc. It is quite difficult to abandon a program in which resources and funds have been invested and switch to an analogue at once.
For this you need:
choose the right program;

allocate time for its completion;

find specialists who will make these improvements.
Most companies are now not ready to rebuild the built business processes, and they are also holding back the cost of switching to 1C alternatives.
The human factor also plays an important role. Often accountants do not want to learn how to work with a new program, spend time on it and leave their comfort zone. But often they can be the catalyst for change.
The transition to Ukrainian alternatives to 1C is a gradual and lengthy process. There are business automation companies on the Ukrainian market that offer high-quality solutions and, if necessary, can adapt their programs to the needs of the client.
3) WHAT SHOULD I PAY ATTENTION TO WHEN CHOOSING ALTERNATIVE SOFTWARE?
When choosing an analogue of Russian programs for accounting, you should pay attention to the following factors:
the area in which your company operates;

what kind of accounting do you want to replace (accounting, warehouse, logistics costs, or all of them);

how many users will work with the program at the same time;

the location where the new application will be hosted (own server or cloud).
Today the last point is very important. The ratio of women to men in the accounting profession is about 80% to 20% in favor of women. Many women accountants have gone abroad, and in order for them to complete the necessary transactions in a timely manner, it is necessary to ensure safe and quick access to the program. This issue can be resolved together with the cloud operator by placing accounting systems in the cloud – technical infrastructure, renting it.
Systems in the cloud are more secure than equipment in the office. Data will not have to be evacuated from the war zone, because it is stored in secure data centers in Ukraine and the EU. Also, hosting in the cloud removes the risks associated with cyber threats. For example, our specialists set up VPN clients for free. It hides the public IP address of the cloud infrastructure, and all data is encrypted and not visible to third-party users.
4) CAN THE COMPANY MAKE THE TRANSITION ON ITS OWN OR DOES IT NEED TO INVOLVE THIRD-PARTY SPECIALISTS?
In theory yes, but in practice it is difficult. After all, the task is not just to install the program on a computer, you need to know the functionality of the software well and, after listening to the tasks of the direct customer, offer implementation options based on the tools and functionality available in the program. But with a great desire and resources, everything is possible to implement independently.
5) WHAT CONSEQUENCES SHOULD A COMPANY EXPECT IF IT CHOOSES THE WRONG SOFTWARE?
Money down the drain is not the worst thing that can happen. Worse, when a business buys a program, starts setting up processes, entering data, and it turns out that some of the company's important business processes cannot be accompanied by this software. And here, either to deliver "crutches", or to switch again, or to use several programs.
6) WHAT UKRAINIAN AND FOREIGN ANALOGUES OF 1C SHOULD BUSINESS OWNERS PAY ATTENTION TO?
We have collected 4 analogues of 1C in Ukraine and in the world, which are in the greatest demand among our clients:
MASTER: Accounting is a product for accounting and tax accounting for small and medium-sized businesses, as well as utilities. Created specifically for the Ukrainian market, it complies with the current legislation of Ukraine and is constantly updated.
Debit Plus is a solution for automating accounting, operational and financial accounting. Good for small and medium businesses. The product is easy to use and integrates with other business systems.
ISPro is a program for automating accounting and management of both private enterprises and budgetary institutions. The program has many modules that will suit enterprises of different industries and comply with the law.
SAP Business One is a product of the world leader in software development. It supports the current requirements of Ukrainian legislation, has been tested by tens of thousands of enterprises around the world, but is more expensive than Ukrainian counterparts.
GigaCloud has dozens of partner companies that develop and implement accounting software. We want to help businesses that have decided to abandon 1C. Our experts on a special page of the site will help you choose a solution that suits your company.
Perhaps domestic analogues cannot accurately repeat all the functionality of 1C, but this is only a matter of time and the interest of specialists working with accounting programs. The more specialists wish to try other software, the faster companies will start switching to Ukrainian programs, and developers will improve their solutions. It's not an easy process, but the first step needs to be taken.