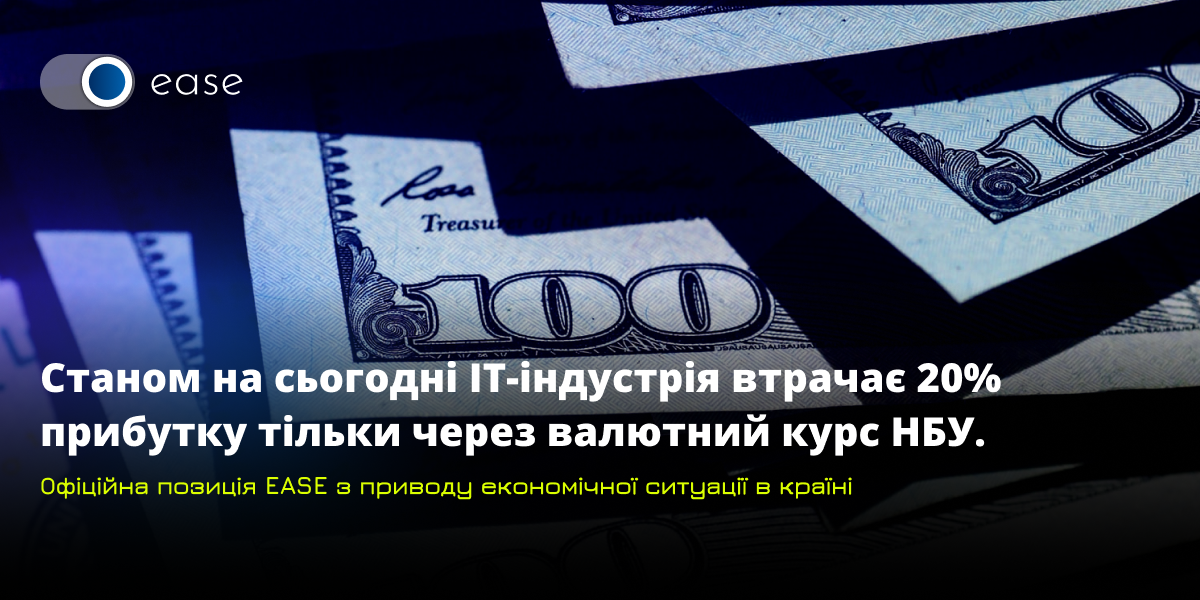 EASE News
Оfficial position of EASE about the economic situation in the country
Today, the IT industry loses 20% ​​of profits only due to the NBU exchange rate.
Administrative methods of regulating the situation, instead of stimulating the small and medium-sized businesses development, bring our country closer to inflation. Now the state prints UAH and if it continues, in the near future the dollar exchange rate will reach 100 hryvnias for 1 dollar, while the official exchange rate may remain at 29.25, which will only increase losses. Losses of the IT industry alone from exchange rate regulation already reach about 20%.
We had $ 2 billion in profit for the first quarter, but we must take into account that in February it was ~ $ 800 million, and in March - ~ $ 500 million, so the trend is still going down.
Due to the ban men leaving the country, new orders and contracts are lost, as most of them provide for the physical presence (sales, bizdev, CEO, CTO) in the negotiations. And when the situation improves a little, there is a high risk of losing 100-150 thousand people who want to go abroad and build foreign IT market.
We understand that this war will be difficult for us for a long time, but we are ready to work here in Ukraine to develop the technological sector, so we cannot stay away from the real problem and pretend that it does not exist.
Solutions aimed at supporting and developing business are needed here and now, because donating is good, but the economy starts with entrepreneurship.