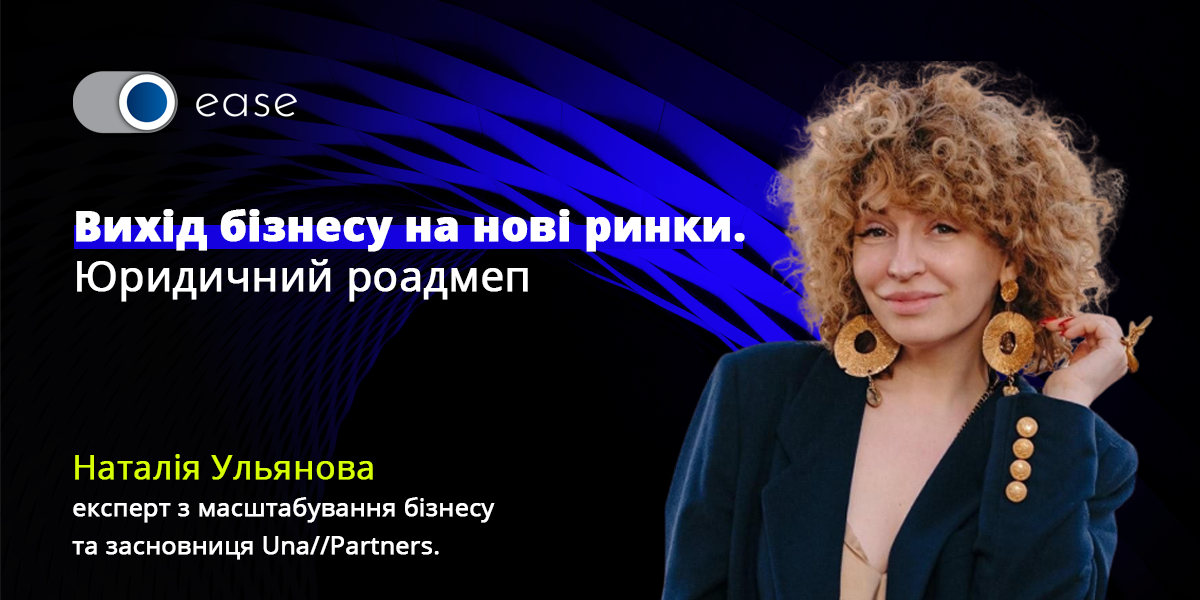 Interview with Izovtsy
Business entry into new markets. legal roadmap
Many Ukrainian businesses that have reached a certain level of development sooner or later begin to think about expanding the geography of doing business, about entering foreign markets. The war in Ukraine prompted even those who had not previously looked for new platforms for scaling outside their native country. Natalya Ulyanova, business scaling expert and founder of Una//Partners, told how to prepare for entering new markets and who has a better chance of succeeding abroad.
1) What legal services are currently most in demand among businesses that are preparing to enter new markets?
Today, Ukrainian business is very much concerned about the question: What to do next? How to save and survive? How to improve your activity? And although many of the entrepreneurs I work with are absolutely confident in the victory of Ukraine and that in the near future our country will become better than Singapore, in the current conditions it is impossible to focus only on the local market. After all, it takes some time to recover. And the preservation of the current business is an important brick in rebuilding our country.
Entrepreneurs mainly consider 2 scenarios:
— some of them want to expand the geography of their business, which will allow them to have a spare market for developing their business;
- the other half is thinking about how to modernize and adapt what they are already doing to the needs of the market in a war and after it.
If we talk about those who want to scale their business and enter new markets, at the moment they are primarily interested in not suffering from a possible devaluation and in general being able to make settlements with foreign suppliers and partners. They understand that having an airbag in the form of an office or a bank account abroad is still worth it. This, among other things, will help rebuild the country.
Considering other countries as an opportunity to open a similar business that was in Ukraine, entrepreneurs are interested in all legal processes from scratch: how to register a company, how to build the correct tax burden and ownership, how to close all processes, given that you are a citizen / resident another country.
In addition, if doing business is planned with a local partner, all of the above are supplemented by the issues of building and structuring relationships with this partner, how to protect yourself, corporate governance issues, share ownership, and so on.
For a business owner, entering new markets is a serious process, so they study not only legal aspects. They consider other countries as opportunities and do a basic research of how much a product or service can be in demand in a particular country, analyze competitors and their strengths.

2) Is it advisable to look for a legal partner in the country where you plan to enter the market?
To begin with, determine whether you should even look for a partner who knows the market? Not only legal, but in general to enter into partnership with one of the local businessmen, or people who live in the country and know the specifics of the market. In my opinion, yes, it's worth it. At least because in the time that you spend on mastering the market and stuffing cones, you could already start many processes. The disadvantage of this is that you have to share the profits.
Speaking of a legal partner, the business owner also has a choice. As a rule, the majority of Ukrainian law firms and consulting companies very rarely have international expertise and specialists of the appropriate level. But they are. It is beneficial to work with such specialists - these are unique guys who can give advice on working with different countries. If a law firm does not have a specialist with the necessary expertise, he is outsourced. In this matter, you also need to know the specifics of the local market. Ukrainian specialists are client-oriented, they have spoiled the market by working very quickly and with very high quality. European specialists, on the other hand, value personal boundaries and their own time, and almost never overwork. They come from the opposite: the specialist is right, not the client, there are few good specialists and clients are hunting for them. If you managed to find a good local specialist at the best price and establish communication with him, consider yourself very lucky.
3) What legal features of the activities of companies in different countries can you highlight?
The next step in a business going abroad, after analyzing the market, is the process of organizing it. And this is where a lot of questions come in.
The first is the tax burden. Be that as it may, in Ukraine 18% is a very good tax rate among European countries, it is practically the lowest. A number of countries have below, but with their own characteristics. A lot of IT business at one time went to Estonia, where the income tax rate is 0%. A lot of countries have registered companies there and started doing business. But the Estonian model is a very high tax rate on withdrawn capital (if you make a profit and distribute dividends to shareholders). At the same time, the rule that you can not distribute capital does not work today. If this is not done for more than one or two periods, the authorities may make a conditional distribution of dividends and notify of the need to pay tax on the amount that they have determined. There are countries in which the tax rate is not 0, but lower than the Ukrainian one. For example, in Hungary, in total, all taxes amount to a little more than 10%, in Madeira, until 2027, the income tax is only 5%. In addition, in some countries there are benefits for certain businesses. For example, Cyprus is known as the most important offshore. But few people know that there is 0% for the purchase and sale of shares of corporate rights and securities, therefore, a lot of financial and holding companies are registered. There are also special regimes with 2.5% income tax for IT companies if their employees live in Cyprus.
In addition to the tax rate, there are a number of equally important points that a business owner should pay attention to when choosing a country:
– the possibility of tax incentives for your field of activity,
— localization of company partners. After all, if you are organizing a business, for example, in the field of food tech, then it is advantageous to place both the company and storage facilities in one country,
– the possibility of organizing: how much it will cost to register a company, whether it is necessary to pay the authorized capital in the company, what is the cost of an audit, whether licenses are needed to organize such a business.
In sum, this will provide an opportunity to see the full picture of the ease of doing business in a particular country and more likely to make the right decision to scale the company.
4) Which country has a more comfortable environment for doing business?
It may seem that under the conditions of the war in Ukraine, business cannot exist, because at every step the work is being tightened, opportunities are being blocked. But at the same time, I observe how many businesses are scaling up, for example, investing in real estate in the western region of Ukraine, or relocating their capacities there, thus changing and reconfiguring the business.
Today, Ukraine is heard by the whole world. And foreign partners are ready to cooperate on slightly different conditions than before. Prior to this, for example, foreign partners conducted an analysis of what they invest in the partnership. It was not always liquid, so contracts were signed very selectively. Now they are ready to go for partnerships much more, realizing that this step is a kind of social responsibility, because Ukrainian entrepreneurs cannot meet certain standards. The number of partnerships that are now beginning to be concluded is quite large.
Comparing America and Europe, I recommend starting from the business itself. Often IT or near IT businesses are registered in America. Subsequently, it is easier to enter the American market and get money from venture funds. The main thing that you as an entrepreneur should do in America is to keep accounts and not to forget about the three-tier system of taxes (taxes at the local, territorial and state levels). If you do this regularly and on time, in general, there are no difficulties.
If it is more comfortable for you to have a business in Europe, choose a location based on the ease of doing it. From the point of view of bureaucracy in European countries it is more difficult. In addition, in Switzerland, Austria, France, Belgium, Germany, a high tax rate and a rather complicated business.
But often in these countries it is easier for companies to make larger partnerships. After all, if you do localization in a country with such a complex system, you are perceived in the market as a larger player. This is an investment in the future. For everything else, if you do not have such a need, you can easily register a Hungarian company, a company in Slovakia or a company in one of the Baltic countries. In Estonia, for example, this does not require a personal presence and a local lawyer - everything can be done online.
5) How can a business owner prepare his company to enter new markets?
I recommend doing this in several steps:
1. Select the country in which your product or service will be in demand,
2. Determine the way exactly how you will enter this market,
3. Choose a business model that will be as comfortable as possible - local, local-foreign or hybrid.

Choosing the right country is the most crucial step. It is important to consider the size of the market here. Let me tell you about the case of our team. One of our clients wanted to enter the Georgian market and supply ice cream there. Previous partners did a research for him, which showed that the country is in the top 3 for ice cream consumption.

We do our internal analysis and understand that in Georgia ice cream is indeed consumed in huge quantities, but it is consumed in a specific way. Firstly, individual packaging is often not branded, and secondly, it is mixed with local wines. This information was not included in the first market analysis. Today our client 's product is successfully presented in all tourist cities of Georgia .

6) What are the most common mistakes business owners make when entering new markets?
I can highlight a few things:
— Owners do not always analyze local business rules sufficiently, but are guided by their desires and emotions.
They don't think about protecting their business. Especially in cases of relations with local partners. Be sure to sign the shareholder agreement, indicate your functions and area of ​​responsibility, and how you will resolve disputes. This also applies to registering a trademark in a new country.
They don't weigh their decisions. I always recommend not to rush. You can voice your intention to expand the business quickly, but in other matters you should not rush.
If you take into account these mistakes, 95% of entrepreneurs enter new markets and become winners in them.
7) What unexpected challenges do business owners in other countries face or might face?
Again, most often it is taxes. In our country, everything is quite simple: income tax, VAT, personal income tax, real estate tax, land tax. In many countries there are taxes that are not in Ukraine and which you may not be aware of. It is necessary to carefully study whether it is supposed to be taxed on a certain amount of turnover, capital gains tax, European VAT. I always recommend talking about taxes not only with a local lawyer, but also with an accountant, together making a virtual model based on the results of a virtual year with potential turnover, partners, and possible taxes. It is important - everything is before the start of doing business, and not during. It is because of taxes that a business can become not so attractively profitable.
Now everyone is in a period of organic fading. And it is important not to be afraid to get out of this state. Entering new markets always means new perspectives, an opportunity to cut off the unnecessary old and acquire something healthy new for your business. And unequivocally, this is the kind of assistance to our country that you can do right now.