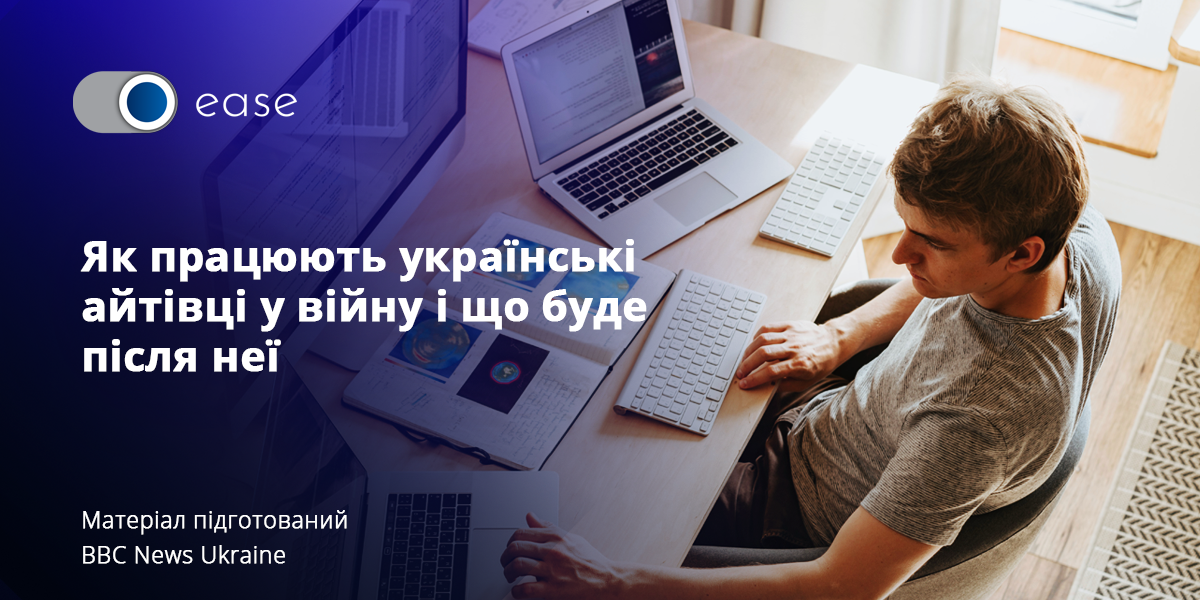 EASE News
How Ukrainian IT specialists work in the war and what will happen after it
"First we have to win the war, and then we will plan," says Nikita. He is an experienced programmer who works for a successful American IT company. And he is a reserve officer. After two months in western Ukraine, Nikita decided to return to his native Kharkiv.
"When the third wave is mobilized, I have to receive a summons, so I would like to be closer so that I don't have to go that far," he explains.
"I live on the west side of Kharkiv, in the suburbs. By car about 10 minutes to the nearest metro station. So there are explosions, vibrations, but during the war I flew there a couple of times. Internet, water, electricity, gas – everything is there. And there were no interruptions in our area. So I think I will work. Of course, if the shelling does not intensify. "
For now, says Nikita, "we continue to work, as before the war."
Before the war, the Ukrainian IT industry was the fastest growing industry in the entire economy. In 2021, it received almost $ 7 billion in revenues from exports of services (compared to $ 5 billion in 2020), which "hampered" by almost 3% of GDP and brought in UAH 23 billion in direct taxes.
During the war, when industry, especially in war-torn areas, virtually stopped and the agricultural sector lost access to foreign markets due to the blockade of Black Sea ports, the IT sector could be a lifeline for the Ukrainian economy. Especially when you consider its mobility, ability to work remotely and flexibility.
To some extent, this is the case – the current performance of the IT industry is much better than in other industries. However, there are also negative signals that some business leaders say could jeopardize the survival of many companies before the war is over.
How do Ukrainian IT workers work during the war?
"We go to the pre-war rails"
"In the first days of the war, there were a few pauses with releases" because most of the team, which was in Kyiv, had to move to the West of Ukraine, to a safer place, – says Nikita.
But now most people are safe, so we are back on track before and working on it. "
He says he has heard from friends who work for other companies that in the first weeks of the war they had a drop in orders and some uncertainty from customers. But these problems, he says, are mostly in so-called "service" companies. And even there, according to him, the situation with orders is beginning to improve. At the same time, he admits that the stability of his company's work is explained by the fact that it produces its own software product and sells it outside Ukraine.
"I work for an American food company. Most of our clients are in the United States or Europe," says Nikita.
Ilya, an employee of another IT company, on the other hand, took advantage of the management's offer to move to Poland in January this year. He now lives in Gdańsk, in a new building where his company also bought small studios for employees in January.
"We and the locals call this house an aitary," says Ilya.
Elijah is not ready to talk about plans for the future, but notes that moving to Poland, and even with the preservation of work, income and place to live, has its problems – both quite expected and those that open "on move ".
So how many Ukrainian IT people kept their jobs, how many left Ukraine, how many clients and incomes did they keep, how efficiently do they work and pay taxes?
According to Konstantin Vasyuk, executive director of the IT Association of Ukraine, which includes 112 IT companies with a total of about 77,000 employees, up to 20% have reported any problems or changes in their work so far.
But it's not just denials of new contracts, it's a simple revision of the terms, he said, noting that the situation is better now than it was at the beginning of the war.
When the war started, customers were skeptical and pessimistic – they were also influenced by the information that 2-3 days, and everything will end, and not in favor of Ukraine. And here, when they saw that "delivery" works, that quality "Security has not decreased, they were very surprised at first. And then, when another month passed, they made sure that everything worked. So now those who tried to radically reconsider their business relations with Ukraine are not taking drastic steps."
The situation is not "rainbow", but if it "does not change for the worse with the availability of staff, the infrastructure will work, we can very seriously save volumes, even unexpected for some," predicts Konstantin Vasyuk.
So far, according to IT Ukraine surveys, companies have managed to maintain efficiency at 95-96% of pre-war levels.
At the same time, the "slump" in taxes, according to Konstantin Vasyuk, will be no more than 20-25% in the industry – and this is an order of magnitude less than in other – "real" – sectors of the Ukrainian economy.
"IT is the only industry that continues to work for export in almost the same volumes as before the war," – said the head of IT Ukraine and emphasizes:
"There were 7 billion dollars in exports. Now let it be 4-5 billion dollars. But it's 5 billion in the economy, it's not just donations or some Marshall plans. This family receives, say, a thousand dollars of income that will be spent in Ukraine, which And Serhiy Marchenko (Minister of Finance – Ed.) knows that these 5 billion are different from the 5 billion from the Marshall Plan. "
At the same time, the share of IT specialists who were relocated outside Ukraine does not exceed 17%.
"Large companies paid more attention to this because customers began to put pressure on them when information about a possible intrusion appeared in October. Customers demanded that companies raise crisis plans, relocate key employees, and offer companies on a voluntary basis." – explains Konstantin Vasyuk, adding that most large IT companies operating in Ukraine also have offices in Europe.
Super risky or safe zone?
The European Software Engineering Association (EASE), which includes 50 companies, has more pessimistic assessments of the situation. The president of the association Vladislav Savchenko draws attention to the dangerous trends in the industry that have emerged since the beginning of the war. For example, the number of vacancies has fallen sharply.
"If before the war the number of vacancies exceeded the number of job seekers by 2-3 times, now, for example, one service has 20,000 vacancies, and those who posted their resumes, about 45,000. That is, in fact, the work becomes less than vacancies, "This is a very bad trend when it comes to the 3-6 month perspective."
In general, according to Vladislav Savchenko, about 12% of companies have had to reduce their staff so far. These are mostly small companies. But "if this percentage reaches 25%, even large companies will start firing people," he said.
In the most difficult situation were service companies that operated exclusively on the Ukrainian market. When the Russian invasion brought the economy to a standstill, such companies lost many orders and customers.
"They have 20 to 30% of the money left, that is, customers who pay. There is a very sad situation, there are mass layoffs and companies are even closing," – says the head of EASE.
If we talk about service companies operating in foreign markets, there are "triggers" that already say that in three months the industry will be very bad, he added.
At the same time, service companies that served customers abroad and kept existing contracts faced the problem of refusing future orders.
So far, the decline in revenues for the IT industry as a whole does not exceed 15%, says the head of EASE.
Old orders survived by 80-85%. But there is a big problem with the new ones. And, if we take into account that the IT industry in Ukraine has grown on "service" (70-75% of the market, according to the association), and not on "products", then "if this situation lasts a year, the Ukrainian IT may not there is nothing left, "Vladislav Savchenko said.
"If we talk about the most capacious market – large corporate customers, then Ukraine is in a super-risk zone for them, and they cancel potential contracts coming from Ukraine. That is, if you show that the location of developers in Ukraine, they ask to show other locations in Europe." , – he explains, adding that sometimes Ukrainian specialists are even included in the same risk category of sanctions as Russians and Belarusians.
Currently, Ukrainian service companies are best able to work with foreign small and medium-sized businesses, as well as startups, because it is easier to convince them that the efficiency of Ukrainian IT companies has not suffered from the war. But for large companies, Ukraine is a continuous risk zone, with which the internal security protocols of such companies prohibit cooperation.
"If we talk about small and medium-sized customers, we can tell them that there are safe zones in Ukraine, and each company does it differently. They mark areas where there is no active hostilities, and say: these are safe zones. We are currently creating an IT cluster in the Transcarpathian region for this purpose. These are already business initiatives that understand the need to communicate with customers, "said Vladislav Savchenko, adding that it would be desirable for the same signal to come from the state.
At the same time, he admits that the government's priority now is to protect Ukraine from the Russian army and get help from partners, so talks about Ukraine having some "safe zones" are out of time.
To convince foreign clients who fear that Ukrainian IT specialists will be drafted into the army or that the Internet will disappear and lose their money in Ukraine, that their orders will be fulfilled, the association has created a special platform where it acts as a guarantor of orders. Options for risk insurance or public-private partnerships are also being considered to ensure a steady flow of new orders.
"Because you sell them safe zones, and they ask: what if there is an escalation, and if there are rockets? The danger is that this snowball of problems could cost billions. The industry has been growing for a long time, and you can lose it in a year, and it's sad, "explains Vladislav Savchenko.
At the same time, he acknowledges that there are companies in the IT industry that have not been affected by the war at all, "but these are food companies that have operated in foreign markets," he said.
"After the war, I think everything will be very good with the Ukrainian brand, but right now there are questions. And we still have to live until after the war."
What they say about working during the war in IT companies
(according to the EASE European Association of Software Engineering survey)
Vasily Ivanov, founder of KeepSolid
During the war we did not lose a single employee, more than that, we opened about 10 vacancies. Everyone works, most stayed in Ukraine. Even those who fought in the city are working. Naturally, with a break for bomb shelters.
We have not lost profits, our users are located all over the world. We launched a campaign in which 30% of the profits from the most expensive tariffs are transferred to the army. In two months we are growing by about 8%.
Maxim Prokhorov, owner and founder of PM Partners
There were 140 employees, there were 58. Turnover fell 2.5 times. The salary fund was UAH 1.8 million, now it is UAH 800,000. There was 20% of revenue from abroad, now 90%.
We make forecasts only for 2 months, we try to keep the team while we live in losses, we try not to increase them during these two months.
In the first weeks of the war, all foreign clients wanted a relocate of all teams, but I said for a long time that this was not possible. We further confirmed the whereabouts of each employee and that they are safe. We also have starlings that provide dozens of times better internet than in the EU or the US.
Despite the fact that we moved teams, efficiency fell by 30-40% due to many factors: volunteering, IT troops, deaths, and so on.
Nikita Popov, CEO and founder of PM Group
2020-2021 were our years of constant growth. As a company, we grew by 5-10% every month, and the amount of taxes grew accordingly.
We started 2022 (January, February) just as actively, recruiting another 10-12 people.
War. For the first 2-4 days we lose 3 employees (agreed that they will take a break, but in the end they never returned from the break).
Day 4-6 (first working week) – freezing or stopping payments of 70% of customers, another 30% said they would continue to work with us and pay for services.
The end of March-beginning of April is exactly a month, as the sum of receipts on our accounts is zero.
We had no income during the war from the word at all.
What happens next? The market has changed a lot, and 20-30% do not want to work with a Ukrainian IT company openly, and another 30-40% want, "but come in 2-3 months or when everything will be calm." The rest do not mind working.
World companies saw such a "drawdown" of the market and came to take it away. Recruiters have been released from the chain and they are now harassing everything and in all available ways.
The market continues to fall, and I have been saying since day one that the first three months will be the hardest and we must hold out exactly this time. So wait for the news in late April and May.
My personal forecast for the company – everything will be fine, we will definitely get out and continue to grow.
Polina Polyakova, CMO AllSTARSIT
The war did not affect the number of employees in the company. The Ukrainian team continues to work in wartime, some took the opportunity to relocate to Warsaw at our headquarters. Since the beginning of hostilities on the territory of Ukraine, 4 workers have gone to the front. In March, two workers who had planned to resign early before the war left the company.
None of the clients stopped working with AllSTARSIT during the war. Moreover, the number of clients has increased – now we have 40 cool projects. Due to the war, the company moved its headquarters from Kyiv to Warsaw.
We understand that after the removal of restrictions on crossing the border for men, some people will go abroad, and some, on the contrary, will return to their families in Ukraine and will restore the state. All this is quite difficult to predict, we calculate different options so that our employees can live and work comfortably in Ukraine (Kyiv, Lviv, remout), and can also go on vacation or relocate to other European countries, Israel, Emirates, after our victory.
Vladislav Podolyako, founder and CEO of Belkins
No client left us. We managed to save everyone, except the Russians, with whom we said goodbye for obvious reasons. Due to the fact that we did not lose our operational efficiency, we were able to maintain the growth trend. Not only did we not fall in numbers, but we also grew slightly due to cost optimization and the flow of new customers.
Our clients are confident that even in this situation, the Belkins team will know how to continue working on projects without interruption. We proved it on the first day of the war. By the end of the first week of the war, we had reached 95% of our efficiency, leaving customers in no doubt.
Of course, there was a short forced pause when we evacuated the team to the West of Ukraine, but even then our team continued to juggle dozens of its tasks, working in different conditions. Part of the team went to defend the country on the front line, some needed more time to evacuate from critical areas, but the boys and girls took on the work of their colleagues, even cross-functionally, without any questions. Thanks to this cohesion, the risks of losing customers have been reduced to zero.
What will happen after the war
The IT industry is one of the few industries that is already a reliable basis for the rear, and after the war may become one of the locomotives of the recovery of the Ukrainian economy, according to IT Ukraine.
In the decades before the war, Ukrainian IT people used to work in a very competitive market, says Konstantin Vasyuk:
"When you're in a market where everyone's pushing so hard all the time, you're hardening. So we're hardening."
"In the last 5 years, Ukraine has become a real IT hub where you can do complex projects," explains Vladislav Savchenko.
When everything was born, we competed with India, he says. But since it is impossible for Ukrainians to compete with tens of millions of Indians "in human potential", Ukrainians gradually began to take on the complexity of projects and tasks that can be solved.
"We have a historically strong engineering school, a strong mathematical school, so everyone wants to hire Ukrainian IT specialists, everyone knows their quality," he said.
This is both an advantage and a danger, because, for example, if you look at ads on European sites that offer jobs to Ukrainians during the war, the lion's share falls on vacancies related to the IT industry.
Due to the ban on travel abroad for men of military age – namely the vast majority of employees of Ukrainian IT companies – so far there is no significant "brain drain". But what will happen when the bans are lifted and the borders are opened?
Fears that then Ukrainian IT people may go abroad are well-founded, says Vladislav Savchenko. But he notes that currently the income of programmers in Ukraine is higher than in Spain and approximately equal to Poland, but the level of taxation is very different.
If in Ukraine it is 5% when registering as a sole proprietor and 7% for residents of Action City, in Poland you have to pay more than 20% income tax. And this has already been faced by some companies that have relocated their employees to Poland, because within six months of staying in the country they have to switch to paying taxes under local laws.
"America can easily compete with us – the United States, Canada, and Britain. The Germans are also competitive in terms of wages, but they probably won't be in line to hire Ukrainians, because hiring an employee is very difficult to fire." Therefore, Ukrainian IT will be able to withstand this blow, "said the head of the European Association of Software Engineering" EASE.
"So far, our polls do not show that everyone is trying to get up and leave," said Kostiantyn Vasyuk, executive director of IT Ukraine.
He reminds that during the years of the coveted pandemic, almost everyone in the IT business has refocused on remote work.
Therefore, according to him, "today we are talking not so much about physical relocation to the country, but about trying to get some better security, social, infrastructural opportunities than a person has here." And today these conditions "in Ukraine for many people have objectively deteriorated due to the war."
"I believe that it is a normal human right to look at opportunities for the family, for children, for their career growth," says Konstantin Vasyuk, and explains the logic of the actions of most IT people:
When he conditionally creates this exel-plate, there will be many criteria. For example, there is security, but there is not enough infrastructure, then there will be one option, – he lists various opportunities. ok, well, unless the military registration and enlistment office is a little worried, if the war is over and there is no security, or there is a threat of renewed conflict, or there will be some repression or strange bills about 10 years in prison for not returning. to select a different location on this plate ".
Therefore, today, according to Konstantin Vasyuk, it is difficult to predict whether there will be a brain drain or not. It will depend on how long the war lasts, what the post-war reconstruction of Ukraine will be like and the situation in European countries.
If you count everything, says the head of the IT Association, Ukraine is "one of the best locations where you can work, realize. But the war has made its adjustments."