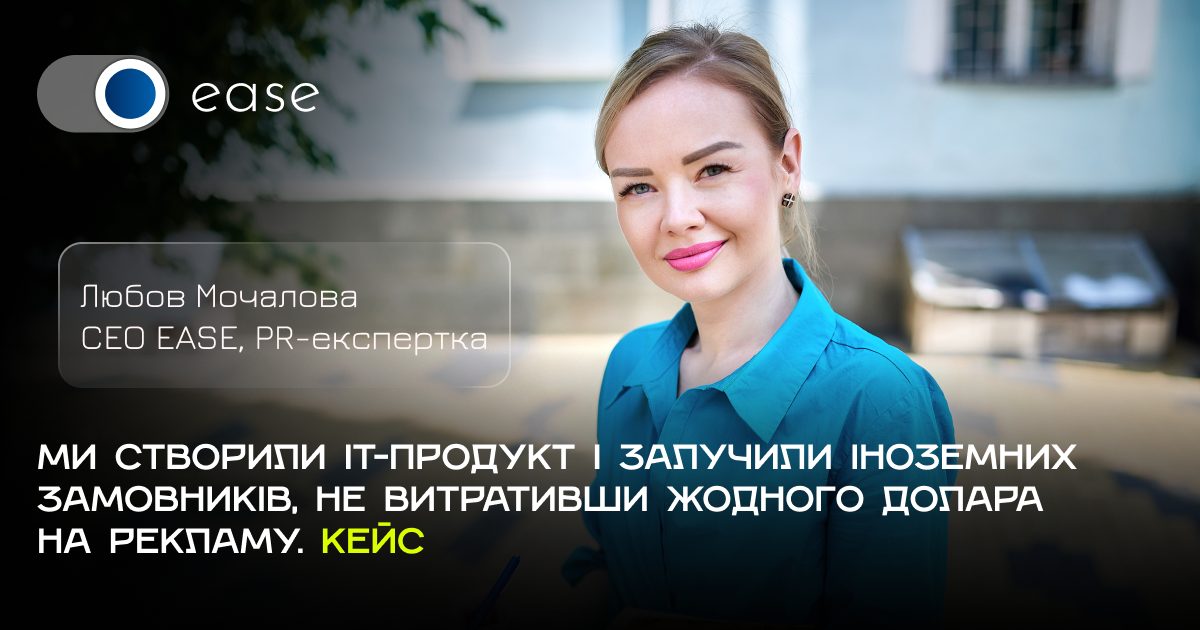 EASE News
WE CREATED AN IT PRODUCT AND ATTRACTED FOREIGN CUSTOMERS WITHOUT SPENDING A SINGLE DOLLAR ON ADVERTISING. CASE
Author's material by Liubov Mochalova, CEO of the EASE Association 
Every IT company that introduces an innovative product to a foreign market needs to create an information field around itself with key messages. That's just to attract the attention of Western media is not always easy. Let's talk about the basic rules for working with representatives of foreign media now. There are no global differences in working with Ukrainian and foreign media. It is necessary to establish personal contact with Western media, as well as with Ukrainian ones.  It's not a quick process, but perseverance always pays off. I will tell you about a recent case of how I went to the world media from scratch to distribute the new product of the Association, the   EASE Work platform    . At the beginning of the war, we launched a search service for new orders from Europe and America for Ukrainian IT teams to help them cope with the crisis and find new projects for implementation. As a result, without spending a single dollar on advertising, we attracted customers from Singapore, Poland, Turkey, Germany and Australia through media publications.  Here's how it worked.
COLLECTING THE BASE OF FOREIGN MEDIA
First, you need to find a resource where the media from different countries are represented with maximum coverage and collect editorial contacts. I used vsesmi.online resource. There is a good list of media for a first acquaintance. By the way, collecting editorial contacts is another quest, they are not available everywhere.
I will share a life hack: if the site does not have email, open the profile of this media on LinkedIn or Facebook – the necessary data is often indicated there. If that doesn't work, look up the profiles of journalists and media editors and contact them directly.
I recommend at the start to collect the maximum number of contacts from a thousand or more – everything that can be found. Subsequently, you will be able to supplement your database and highlight the media relevant to your company or project, with which you will work on a regular basis. Geographically speaking, the Baltic countries are quite open for communication, and their websites almost always have direct contacts of editors. It is more difficult to find contact with representatives of the French and US media, most often you will find only feedback forms on their websites. In Belgium and the UK, you can find full contact details: the entire editorial office, the marketing department and even the chairman of the board. Openness worthy of respect.
SHORT PITCH – PERFORMANCE PITCH
When your IT product is just entering the global market, you should not put a tough filter on the media, but knock on everything possible:
Write a short cover letter with important points that you want to cover in the media. It is important to indicate not your personal benefit from this, but the country to which they turned. For example, your IT product will allow local students to save time on preparing homework.

Be sure to translate the text in the language of the recipient's country.

Thank the recipient of the letter for helping to spread this important information and add that you are ready to ask for more.

Send a letter to editorial contacts from your base or in private messages to journalists and editors.
Be prepared for the fact that journalists can slightly change the information in favor of the country where they work. At the first stages of communication, be loyal to this.
DON'T FORGET ABOUT FOLO-UPS
There is a very fine line between obsession and reminder. Often, PR people stop when their first few emails don't get a response and don't resonate with them anymore. The purpose of the follow-ups is to understand if the journalist is busy, missed your letter, or the topic is not interesting for him. If you haven't received an answer for a few days, you can remind yourself. If they answered that, for example, they took it to work, be sure to write again. In Europe, everything is very leisurely, and if you are not persistent, then due to the large number of requests, you will be simply forgotten. When we launched EASE Work, I sent out about 50 emails a day for two weeks. As a result, we were published in Poland, Spain and Lithuania. And the editor-in-chief of TechCrunch and a top manager of Netflix personally shared messages. Later, we were invited to be a podcast guest in Iceland and a business community partner in Sweden. This is how the law works: outgoing flow brings incoming flow. So, in order for the number of positive responses in communication with foreign journalists to prevail, be more persistent and poke only those products that you strongly believe in.