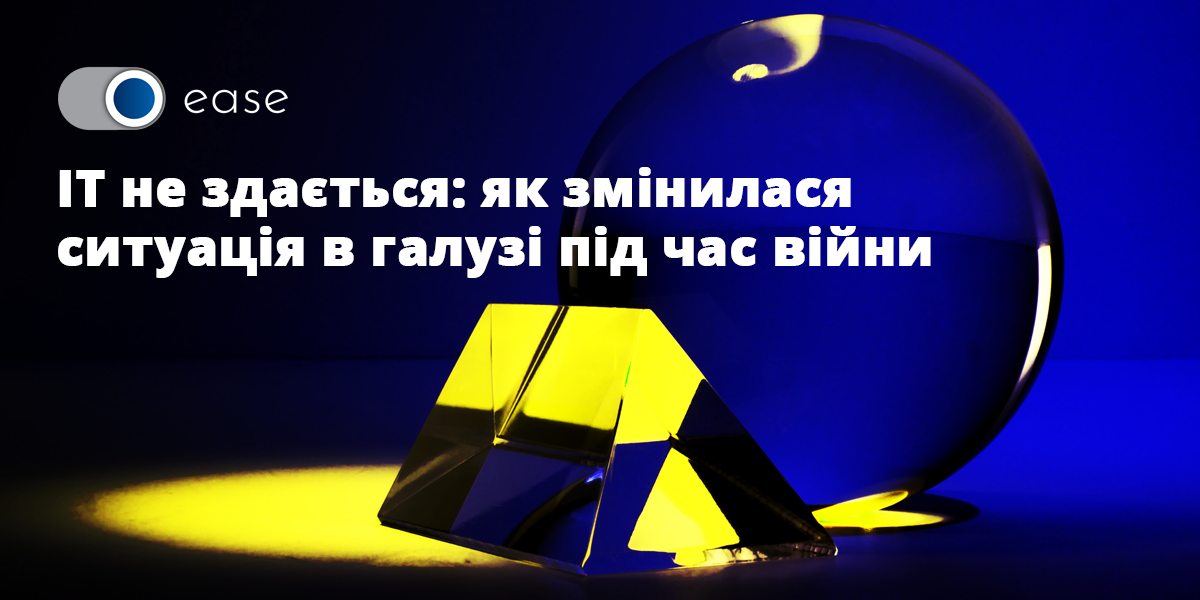 EASE News
IT doesn't give up: how the situation in the industry changed during the war
Russia's war against Ukraine has not escaped any industry. The Ukrainian IT sector, no matter how powerful, has also suffered: project closures, cancellations or no orders, loss of customers and funding. However, those who are still afloat are trying hard to keep working, look for foreign clients and help Ukraine's economy grow. Vladislav Savchenko , President of the European Association of Software Engineering EASE, told Mind what difficulties IT companies are facing now, how companies can survive in wartime, which will help keep the team and how to restore work processes.
The situation in the IT industry now
Now the IT industry, like other areas, has suffered losses. The victims were mainly sectors that operated only in Ukraine – providing services to Ukrainian companies or whose products were sent to the Ukrainian market. The war especially affected small and medium-sized businesses.
Outsourcing, outstaffing, and products in the global market have suffered less. The latter raise issues only with new orders. Now there are instructions to European and American companies not to sign new contracts with representatives of the Ukrainian IT sector, not to hire developers from Ukraine. And we receive a lot of emails from foreign partners about the fear of giving Ukraine new contracts, because this is a high risk area.
From the business point of view, I understand them, but as a Ukrainian I would like to see more loyalty. Representatives of these companies fear that their projects will be threatened and will not be completed.
Ongoing contracts are ongoing, but new ones are not being signed. If this trend continues, the industry will suffer greatly. And it is important to talk about it now.
Reaction of foreign partners and customers to the war
In general, Ukrainian IT turned out to be very stress-resistant. If you have worked with the Western market before, you have a good reputation and you know how to communicate with partners and explain that the war does not affect your efficiency at work, then you have no problems. If so.
Foreign partners fear an unstable geopolitical situation. According to them, it has a large-scale impact on efficiency, but, fortunately, this is not the case. Ukrainian companies are trying to protect their employees as much as possible, organize a relocation, provide an opportunity to be in a stable relationship.
Under such a schedule, even a war that affects all areas without exaggeration does not prevent IT companies from continuing to provide quality services. The main thing, as I said, is constant communication with foreign clients.
How the war in the country affected the number of vacancies, salaries, competition for personnel
Ukrainian IT is quite dependent on the world market. And in the latter, the demand for IT professionals is not decreasing, but only increasing. 500,000 to 800,000 vacancies that are not closed in the United States are distributed around the world, most of which go to Ukraine.
After the war, of course, we will be able to recover fairly quickly. But now the question is, will Ukrainian IT remain? We are now receiving many requests for invitations from Ukrainian specialists. Foreign companies are actively recruiting Ukrainian companies. It may happen that in half a year 80% of the market will be international companies and only 20% – Ukrainian.
The number of vacancies has decreased, and those wishing to fill them have increased many times over. But there are technologies that have even risen in price, because there are very few relevant specialists. The war has changed the IT market and now there are cases where some companies have entire teams left without projects. And such a story is deadly, because companies can not pay for such benches. Orders have shrunk, projects are either on pause or closed.
At the same time, Ukraine is now in the forefront of all media. Our country is now being learned from various quarters, not just the military. They talk and write about companies that work in one way or another during the war.
Many people are amazed at how stable Ukraine is and offer us their help. Moreover, they try to help us even during the negotiation process with foreign customers. When asked what to help us with, we offer to take our teams to work.
Lack of projects and change of work during the war
In addition to the obvious problems, such as the lack of new orders and the loss of old ones, there are pros – more and more requests for entire teams, sometimes up to 15 people. After all, many people are now giving up subcontracting in Belarus and are looking for replacements in Ukraine. This is what stabilizes the situation on the Ukrainian IT market a bit.
For those who have lost their jobs or are ready to offer them to Ukrainian specialists, the European Software Engineering Association has launched a platform to search for EASE Work.
EASE has many international partners, and Ukraine has a free IT resource that needs stable work instead of donations. This is the main message of our platform. We carefully check every resume that comes to our service, and therefore we guarantee the specialists and the quality of their work. In general, for those who really want to work and benefit from their work – the door to search is always open.
Prospects for professionals who remain within the country
Ukraine's strong IT sector is now at a crossroads: Ukrainian customers are shutting down projects because they have nothing to pay for, and foreigners are afraid to hire Ukrainian teams because of the unstable geopolitical situation.
If there is nothing we can do in the situation with the Ukrainian market, we understand what economic losses the war will lead to, then we need to communicate with Western customers.
Our association now consists of 50 international IT companies, most of which are from Ukraine. Due to lack of funding, several resident companies closed. At EASE, we were actively looking for work formats that would be relevant now: finding housing, relocating assistance in Ukraine and abroad, financial transactions and currency exchange, psychological assistance to teams, exchange of resources and vacancies within the community, attracting new customers. We constantly communicated with our partners, and they supported our aspirations, were not afraid, but on the contrary, took the Ukrainian side. And now we continue to work.
Changing the scope of activities and whether to go into IT
Now is the best time to change your field of activity and profession. There is not as much work as it turned out, even in Europe. If we talk about the IT profession, then the demand is high. Now professionals who do not have much practical experience have a chance to get a good job regardless of location – Ukraine, Poland, Portugal or another country.
So now you can study, today a large number of courses of Ukrainian origin, some of them with free access.
There are also a large number of initiatives from companies that support the desire to learn new professions. IT is not just about programming, it is also about project management, testing and design. Even watching videos on YouTube allows you to understand what you like and in what direction to deepen your knowledge to get a new profession.
IT business recommendations for stable operation
Optimize costs. This applies to costs in terms of both marketing and project effectiveness.

Use different methods to find and attract customers, pause or reduce the number of all internal and investment projects. It is important to earn and maintain a financial cushion. It is not known how long the war will last.

Increase the number of meetings with the team. They are your second family, for whom it is also important to receive support, feel valued and have information about change. Communicate, share thoughts and ideas and stay positive.

Stay in touch. This applies to both customers and vendors. They need to understand that the projects are being implemented and everything is going according to plan.