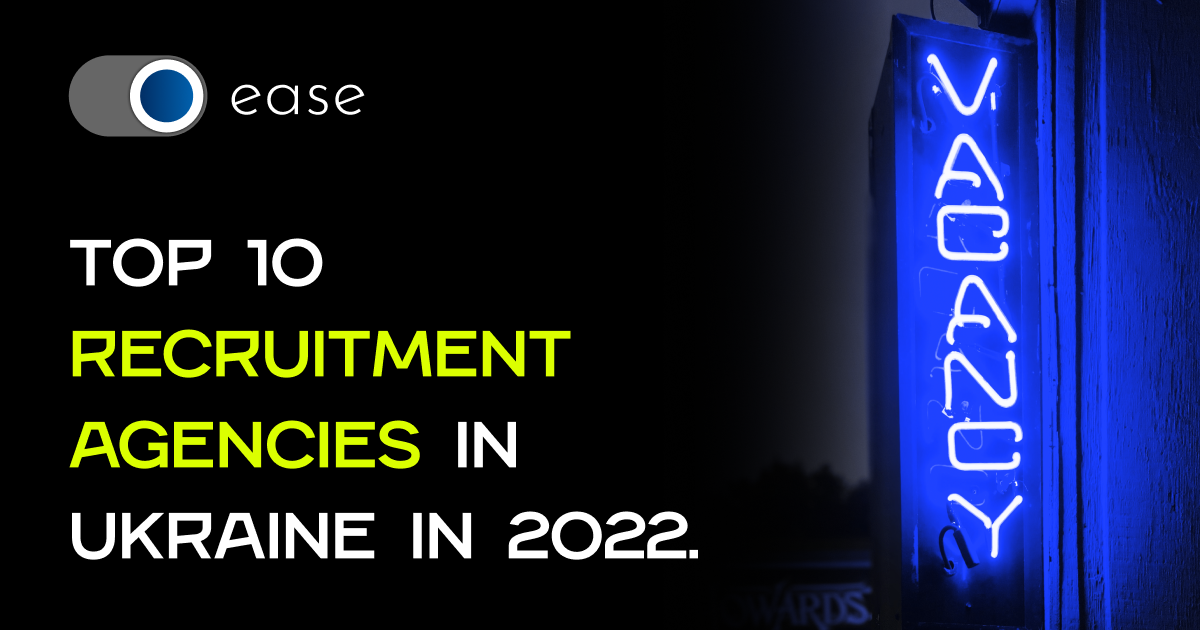 EASE News
TOP 10 RECRUITMENT AGENCIES IN UKRAINE IN 2022.
Before Russia attacked, Ukraine was one of the largest exporters of IT services and a popular IT hub in Europe, with an annual growth rate of more than 20 percent and export revenues accounting for nearly five percent of Ukraine's GDP.
The war should have put an end to such impressive growth, but in fact the picture was different. The industry is projected to export $7 billion in 2022, up 2 percent from 2021.
During the war, IT companies in Ukraine have shown a stunning ability to adapt to new realities. By implementing continuity plans and relocating teams to other parts of Ukraine or sometimes abroad, catastrophic losses in the sector have been avoided. In Ukraine the IT sphere still employs about 300 000 people. These factors as well as some positive trends in the EU, such as decreasing inflation rate and increasing vacancies in the IT industry, give us hope to believe that the most difficult period of this crisis has been overcome.

Euro-area inflation returned to single digits for the first time since August, fueling hopes that the bloc's worst-ever spike in consumer prices has peaked.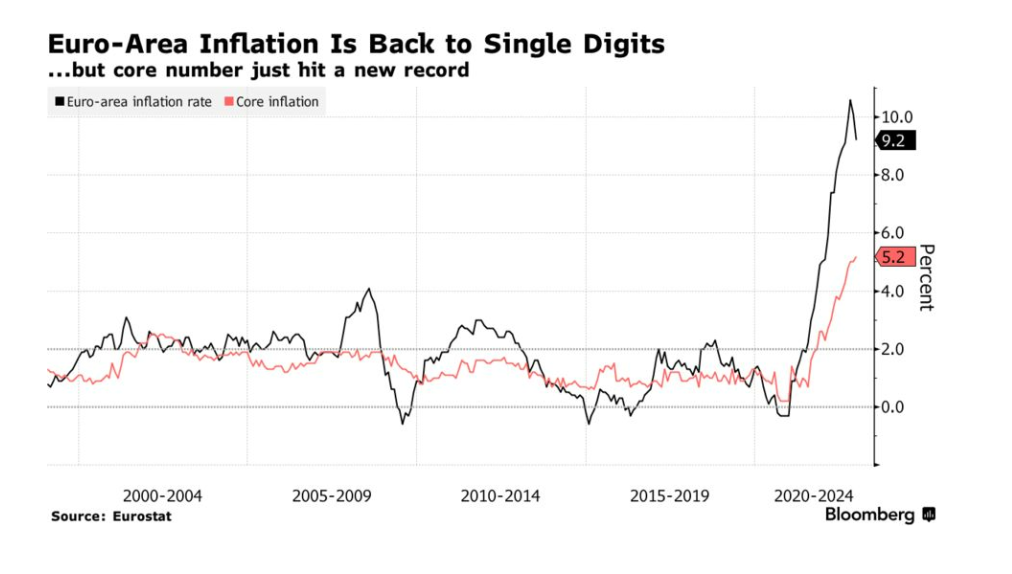 Heatmap of labour shortages in services, top 10 subsectors, 2022Q4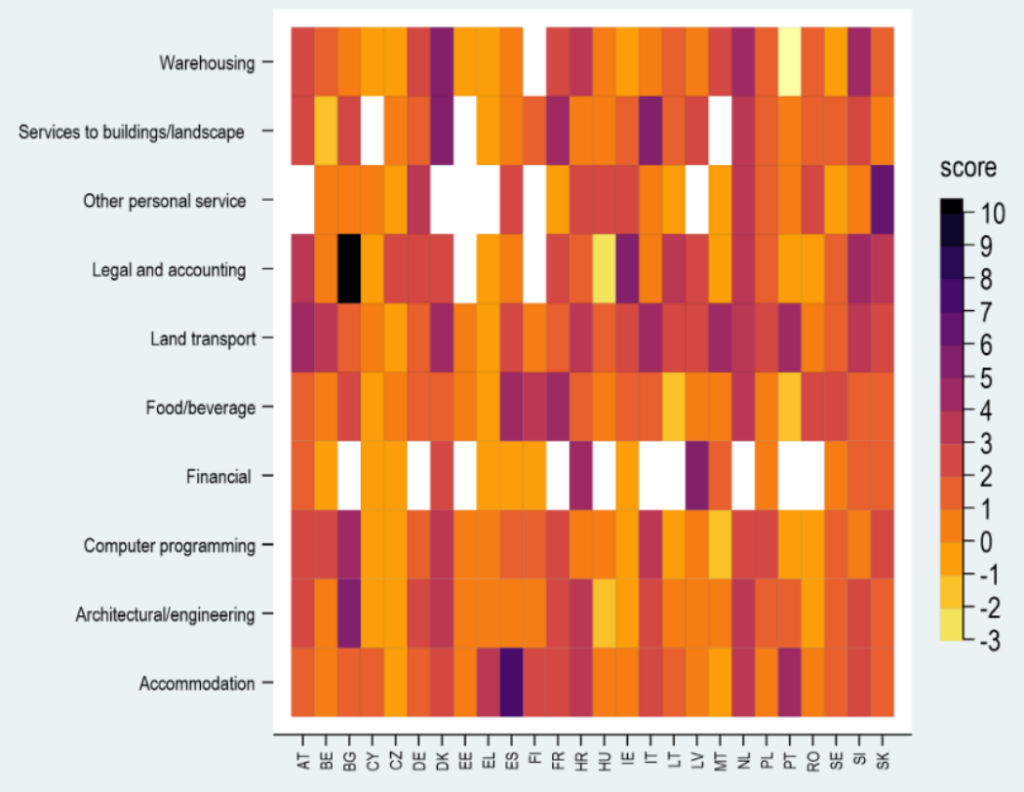 Thus, the IT sphere in Ukraine continues to develop despite the difficult situation in the country. We have prepared a list of the top 10 Ukrainian IT recruiting companies that help IT companies develop in Ukraine:
1.CNA International
CNA International IT is a high-standard hiring agency that helps startups and product companies hire top-notch technical specialists. C-suite headhunting is also possible. The company was founded in Kyiv in 2013.

2. DNA325


DNA325 is a facilitator of bright IT Talents in Eastern Europe and LATAM, based in Odesa, Ukraine, with back offices in 4 other countries.
Founded in 2016, their team of around 50 Technical Recruiters is a reliable partner for global companies and startups expanding their software development teams in the EU or Latin America, helping them hire top-notch engineers with confirmed technical and soft skills. 

3. HuntME
HuntME has been recruiting "hidden gems" for both Ukrainian and foreign IT companies since 2013. The head office is located in Uzhgorod. The staff consists of 40+ employees and the CEO is Alex Bogosta. Depending on the client's needs, the HuntME team provides different services.
4. Job Advice Agency
Job Advice Agency (JAA) is a Kyiv-based company founded in 2018. The focus of this hiring agency is recruiting in the IT sector. The team of 55 professionals is headed by CEO and founder Marina Portna. JAA is primarily known for its super individual approach.


5. Uppeople


UPPeople is an IT-focused recruitment agency with 40+ employees. This company relies on a strong marketing approach and was created by Anton Bohdanov in Kyiv in 2014. Their mission is to connect talents and companies to create cool products because they are closely integrated into our life: simplify shopping and travel, help to learn, and entertain during the next lockdown.

6. Capital Recruiters
Capital Recruiters is an IT-focused recruitment firm that has been successfully operating in Kyiv since 2007. Recruitment is conducted both for businesses in Ukraine as well as for US & EU companies, particularly those in Poland. The staff of 36 professionals focuses on searching, evaluating, and selecting IT specialists, including individuals in the management level. Capital Recruiters is known for its experience and reliability.
7. MDCONSULT
MDconsult is an Odesa-based company engaged in IT recruitment in the Ukrainian labor market. If you are interested in middle, senior, or C-level professionals, MDconsult will help you to fill these vacancies easily. The agency also provides HR consulting services. The company was established in 2017 and currently has 35 employees.
8. Sunvery
Sunvery is an agency founded in 2015 that recruits for IT-focused businesses. The company's mission is to find and hire talented tech personnel. The head office of Sunvery is located in Lviv. There are 29 people on the Sunvery team and the cofounder is Bogdan Makh.
9. MoveUp
Move up connects with the best Ukraine talents within 30 days with great international production companies. They carefully study companies' vision first, then look for perfect matches and help talented professionals and IT teams find each other. They listen to their candidates, learn who they are, what their wishes are, and dream of a job.
10. HEAD4HUNT
Head4Hunt is an IT recruitment agency located in Kyiv that was founded in 2019 and employs 26 specialists, who work diligently to find the best matches for great IT companies. Their recruitment professionals have experience in finding the rarest talents. The goal of the company is to facilitate the recruitment process and make this journey enjoyable for clients.