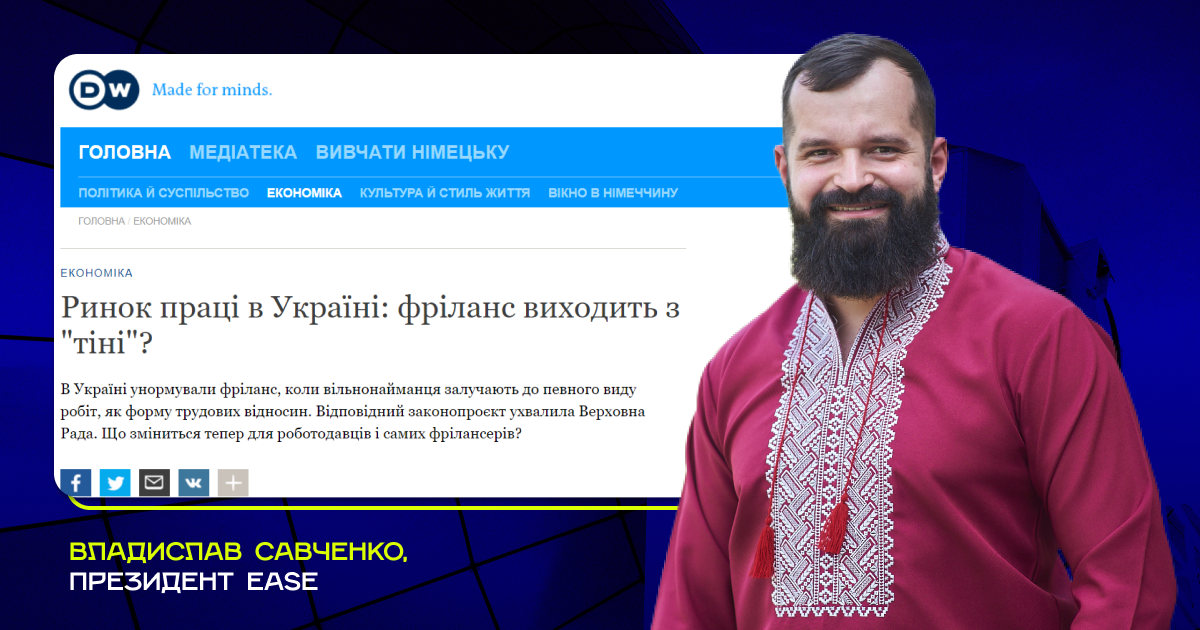 EASE News
LABOR MARKET IN UKRAINE: IS FREELANCE COMING OUT OF THE "SHADOW"?
According to  Deutsche Welle
In Ukraine, freelancing was normalized, when a freelancer is involved in a certain type of work, as a form of labor relations. The corresponding bill was adopted by the Verkhovna Rada. What will change now for employers and freelancers?
An employment contract with non-fixed working hours - such a new special form of labor relations will appear in Ukraine. The corresponding   draft law No. 5161 was   adopted by the Verkhovna Rada this week. The document has already been sent to the President for signature. The first innovation is aimed at legalizing freelancers. "This is the deshadowing of the labor of persons performing work on a non-permanent basis, in particular, freelancers, as well as an increase in the level of their social protection," the explanatory note of the bill, the adoption of which was initiated by the Cabinet of Ministers of Ukraine, says. By its legal nature, the Ukrainian employment contract with non-fixed working hours is an analogue of the foreign "zero hours contract", widely used in the UK, Belgium, the Netherlands, Hungary and other countries.
IT specialists, accountants, lawyers, managers and consultants on various issues, SMMs, graphic designers, etc. This is not a complete list of professions where a new form of labor relations will come in handy. Previously, there was no appropriate legal framework for this type of part-time employment in Ukraine. Therefore, employees have to register as FLP (individual entrepreneur) so that the employer pays them money for the work done, or sign a civil law agreement with the employer, which does not actually protect the worker from abuse.
Once the bill is signed by the president, employers will be able to sign these new contracts with employees. They must comply with the requirements of the law regarding the duration of working hours and rest periods. The number of working hours of an employee cannot exceed 40 hours per week, and the number of days - six per week. At the same time, the minimum duration of working time during the calendar month must be at least 32 hours. Wages are paid for the time actually worked or the work actually done. If an employee performed less than 32 hours of work, he must still be paid wages for at least 32 hours of working time. At the same time, the employer independently determines when and for what amount of work a freelance worker should be involved.
This agreement allows the employee to combine legal work with several employers and have basic social guarantees - sick leave, vacations, sufficient wages, etc. It is also assumed that an employer cannot prohibit a freelance worker from doing work under another employment contract of another employer.
EMPLOYERS ARE READY TO TRY A NEW FORM OF LABOR RELATIONSHIPS
According to forecasts by the president of the European Software Engineering Association, IT businessman Vladislav Savchenko, up to 10 percent of Ukrainian IT companies may switch to new contracts with non-fixed working hours if the bill is signed by the president and it works. He explains that currently 80 percent of IT companies in Ukraine work through FOPs in their relations with workers, which helps to optimize the   tax burden  . At the same time, companies still take upon themselves the payment of taxes for their workers, who are registered as sole proprietorships and have to spend additional money on the complex administration of these relationships with their workers. A new type of contracts with non-fixed working hours will greatly simplify these relationships.
"This is a new format by which people can be hired. This will contribute to the legalization of the IT industry. This can be used instead of sole proprietorship, the structure is more understandable and it is easier to carry out all this through accounting," Savchenko comments.
He suggests that contracts with non-fixed working hours will help employers more rationally allocate business costs, which is very important during the war in Ukraine, when the volume of work has decreased.
"Now fixed jobs are a very difficult part of business. Now it's easier to work with freelancers who work from home, from safe places, constantly moving," says Savchenko.
The draft law stipulates that the number of labor contracts with non-fixed working hours with one employer cannot exceed 10 percent of the total number of labor contracts, and if the sole proprietorship is with employees, then only one of the labor contracts can be with non-fixed working hours.