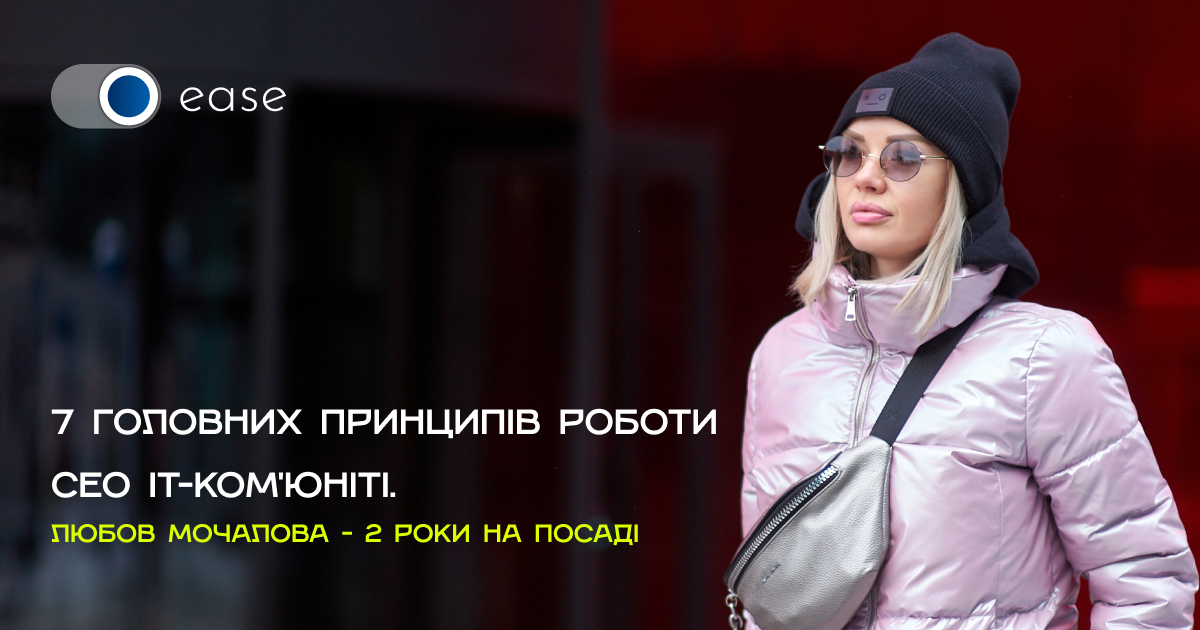 EASE News
7 MAIN PRINCIPLES OF CEO IT-COMMUNITY WORK
Lіubov Mochalova, CEO of the EASE Association, has been leading one of the most powerful IT communities in Europe for 2 years. During this time, EASE has grown to 40+ large and small IT companies, 10,500 IT representatives, formed 5 key areas of work, supports cooperation with Ukrainian and international partners: investors, representatives of the state apparatus, organizers of world conferences and forums. We spoke with Lіubov and learned about her key principles in work that help achieve results.
1. REAL, NOT IMAGINARY BENEFIT.
As a PR specialist, I know that it is important to bring benefits to the client that he personally needs, and not to measure by himself. For this you just need to ask.
From the very beginning, we have carefully worked out event formats, topics for training, features of services for residents. Constantly carefully collected feedback, analyzed, drew conclusions, changed. And we are constantly changing.
In addition to the regular services and activities that are prescribed in the resident's package, we provide community members with individual assistance according to their requests.
For example, support a corporate information drive, introduce someone, find an investor in a project, find a team member, attract a freelancer for a temporary project, provide personal advice, etc.
I really enjoy satisfying their requests – this is perhaps the secret of success.
2. ABSENCE OF ANY BUREAUCRACY
The second principle follows from the first.
Since all residents with inquiries mostly turn to me personally, I can confidently say that we have absolutely no bureaucracy.
I am like a "mother" for residents, and such a person should be in the community. People need to be united, pay personal attention to them, know their faces and simply love in a human way.
It's not a business principle, but it's the only principle I know that helps bring people together in a group. Every company that joins the Association knows that they can turn to me and we will help/solve/give advice/be there/find the necessary solution. It cannot be measured in money, but only in mutual loyalty.
3. DELEGATE OR BURN OUT.
At a certain stage, when there were more than 30 companies in the Association, I saw that I could no longer handle all inquiries and communication.
That's why something happened that I couldn't morally afford at first — I started delegating and expanding the team. I was very afraid of losing the spiritual connection with the residents and the family atmosphere of the entire community. We even raised this issue at a strategy session earlier this year. But so far, everything is okay, and we manage to scale while maintaining the EASE Family atmosphere. This, in turn, is due to the fact that we have a well-functioning team, to whom I often and carefully convey values.
4. ONLY "YOUR" PEOPLE IN THE TEAM
From the previous one, I can single out the following principle: only your people should be in the team. This is the principle in which you cannot compromise with yourself.
When I first took the position of CEO, the president of the Association, Vlad Savchenko, told me: "Remember: a leader selects a team for himself, and does not adapt to people. You won't be able to adapt to everyone."
I really had several times when I hired people who were suitable for their competence, but my intuition told me: "something is wrong." Spoiler alert: it never worked. That's why now I listen to my inner voice and look more at the "person" and not at his features. Because everything can be taught, but you cannot change a person whose values ​​do not match.
5. WE MUST LOOK FAR BEYOND THE HORIZON AND AIM HIGH.
From the first activity of the Association, when I was asked to make a "wind" and draw attention to the community, I was not shy. And the very first event, when not a single person had heard of EASE, gathered 150 founders of IT companies, the entire press of Kyiv and four deputy ministers as speakers.
If promoting residents in the world, why not at the largest world exhibition Expo 2022 Dubai
And if you want to make Ukraine's IT brand stronger in the world, then why not make a documentary and put it on Netflix.
No restrictions, no rules.
6. THE FOLLOWING PRINCIPLE FOLLOWS FROM THE PREVIOUS ONE. I'M NOT FROM THE INDUSTRY, I DON'T KNOW HOW I WAS TREATED IN IT, AND I DON'T CARE. I DO AS I SEE MYSELF. AND IT WORKS.
If you choose a non-committed but responsible person for a managerial position and (here it is very important) give her freedom of action, she will do something completely new and fresh. Something to talk about and join.
7. I BELIEVE IN THE INTERSECTION OF INDUSTRIES. I THINK NOW IS THE BEST TIME FOR IT.
IT and cinema, mass media and platforms, celebrities and artificial intelligence… Any fantasy you have today is worthy of attention and can work. I often use this principle in my work and in our partnerships. This creates new non-trivial products and ideas.